Micro Garden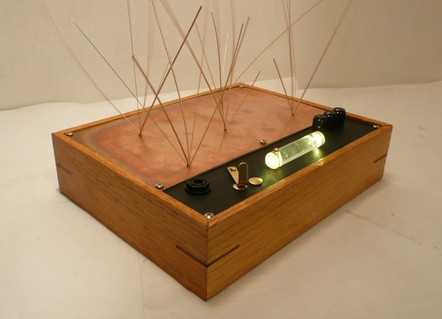 This model of garden is no longer available. It has been replaced by the "Resonant Garden" and the equivalent (though expanded version: the nano garden.
Here is the bare-bones version of the garden; perfect in its simplicity and capable of a beautfful range of sound.
The Garden is a conceptual sound art work and a phenomenal instrument for extending micro sounds into waves or generating odd sounds based on an accoustic source.
This piece is a smaller version with a huge sound...The sound very much reflects the asthetic - an electric garden with waves growing from the sound field they're created from. The sound board and spouts of wire extending from it are picked up with high sensitivity and run through a digital delay with a very warm sound. This delay can be as tight as possible or extend to about one and a half seconds. Every sprig of string has a unique sound and the Garden can be played as a percussion piece or soundscape generator. The feedback can be adjusted to generate long perfect extentions of micro sounds to become waves then captured in long format if desired. There is as much musical potential as there is a potential for strange sounds - bits of waves can be strecthed in real time and become distant-relative abstractions of themselves.
The sound very much reflects the asthetic.
___________
As many people have emailed regarding the difference between the micro garden and the luminist garden, I thought I'd clear that up here;
The Luminist is capable of everything the Micro is, however, aside from being a bit longer in size there are the following additions on the Luminist;
* larger soundboard with more spouts of wire and multiple pickups
* an added circuit I call the "wave reverb" which has the ability to be extremely dense and create choral waves. It adds pitch shifting and reverb simultaneously and has controls for feedback, pitch, depth and tone
* dual lamps
* two 1/4" outputs (for stereo power)
__________________
ATTENTION* A power supply will only be included upon request for folks in countries other than the US. I'm only capable of supplying an adapter with a standard US 110v rating and many people have trouble with voltage converters. It is preferrable that you find an adapter with the correct rating (as follows; 9v 200-400ma, positive tip, 2.1mm plug end.
a very early micro garden - since evolved but same concept and sound