Drum Scape = Overview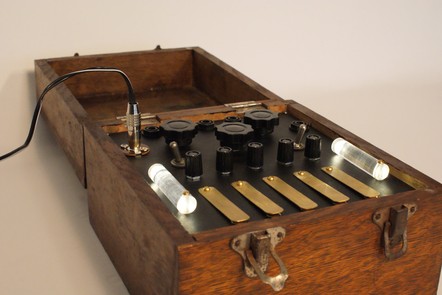 The Drum Scape series began with the "Simian" and moved on to incorporate all of the drum scape works on this page as commissions were requested. When requesting a Drum Scape, you can expect something in the vein of the works you see here. Each is a little different but all hold true to the future antique asthetic and all have the same capabilities unless it's obviously an expanded on version (such as the Midi Drum Scape" or the "Drum Scape Sequencer").
Below you'll find all sound samples, images and videos to give you a solid idea of what these works are capable of. The general price of the drum scape in the antique style is 1200. If you'd like a custom box version the price is 1100. If you'd like an expanded piece, incorporating midi or other details, please email to discuss.
standard features;
5 keys (plays 4 osc)
5 trigger jacks (1/4")
output
2 lamps
osc. controls + volume
delay controls = feedback mix time
drum mode switch, delay time switch.
These works are limited so please email for availability. Currently the "Elysian Drum Scape is the way to go.
Drum Scape sampled sounds - arranged
Drum Scape sounds
Drum Scape drone
DSS (drum scape sequencer) 1
DSS (drum scape sequencer) 2
DSS (drum scape sequencer) 3
DSS (drum scape sequencer) 4
DSS (drum scape sequencer) 5
DSS (drum scape sequencer) 6
DSS (drum scape sequencer) 7
DSS (drum scape sequencer) 8
Simian Drum Scape video 1
Simian Drum Scape video 2
Simian Drum Scape video 3
Simian - Big Pauper video
drum scape sequencer - Big Pauper video