the record lathe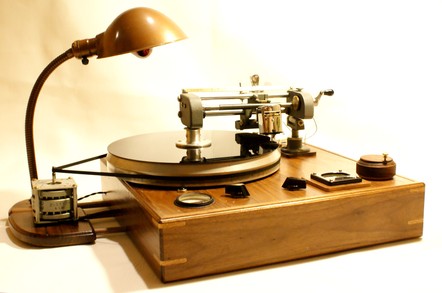 Record Cutter (Lathe) constructed by me (Arius Blaze) based around rek-o-kut Challenger. The plinth (box) and top panel are creamy and delicious walnut with oak splines, DB meter to check incoming level, heated stylus with milla-amp meter and adjustment control, stand-off motor with adjustable belt tension, rek-o-kut cutterhead assembly with freshly re-wound Audax cutterhead, cork covered platter, antique silver ins and connections and all cloth covered cables.
This has been used successfully in my studio for years. I constructed it using parts from a rek-o-kut record lathe. I finished the build in 2012. I had the audax cutterhead professionally re-wound.
A few things to note:
- the heat lamp was once built onto the lathe itself but has been removed. It is still included but has its own base. It proved to be problematic over time when attached o the plinth.
- record cutting is considered an art. It takes time, practice and adjustment. You will be on your own in learning to use this and I can make no guarantees in your success. I can say that I am capable of successfully cutting records. There are forums where people are willing to help.
- I'll include several sapphire cutting styli as well as heat wire as well as an audiodisk chip chaser and a small table-top magnifying glass.
-This is essentially considered vintage. I have just replaced the motor and all mechanics work great. Considering that it is vintage, it will require upkeep.